Castro's Power Washing will clean your Trumbull CT roof and r

emove those ugly black streaks and roof stains.
Castros Roof Cleaning Service use soft pressure washing and proven cleaners to free your Trumbull CT house of undesirable roof shingle bacteria which can both damage your roof and significantly lower the value of your home.
Many Trumbull CT home owners potentially throw away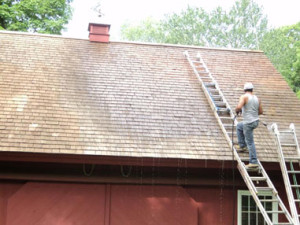 hundreds of bucks attempting to address the issue of black streaks and moss on a shingle roof. This problem is in fact created by an algae growth called Gloeocapsa Magma which is a blackish algae which thrives on moisture. Gloeocapsa Magma unfortunately also seems to have an affinity for building material used in many roofing products. Because of the weather and climate we experience in Connecticut it is a common sight on Trumbull CT roofs and whenever left unchecked, it can definitely weaken shingles. Castro's Power Washing provides roof cleaning services in the Trumbull and can certainly make your roof look new again. We employ a low pressure soft wash roof cleaning procedure which begins with an application of algaecide to the roof, killing and neutralizing the unpleasant algae. Then we apply a second application to ensure it is 100 % eliminated. Each treatment includes a special additive to hinder future growth and keep your roof looking newer, longer.
Roof Cleaning in Trumbull CT is just a fraction of roof replacement cost!



Do not make the costly mistake of thinking premature roof replacement is the only way to restore your home's beauty.
We will Power Wash the roof on your Trumbull CT home the right way
The roof cleaning pros at Castro's Power Washing can restore your Trumbull home's shingle roof to a like new condition and appearance for far less than the cost of a brand new roof! We are competitively priced, fully insured and bonded. Call us at (203) 353-9460
Topic: roof cleaning in Trumbull 06611 CT